Innovations, trends and developments: Innovation Avenue – Aquatech Amsterdam
Fully up to date on the latest trends, developments and technologies in 20 minutes? Visit the Innovation Avenue in Hall 7!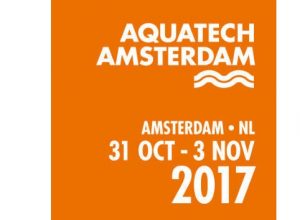 The innovation Avenue, is an extremely inspiring Avenue, where you will be immersed in the latest technologies in the field of clean drinking water, sludge dewatering, algae detection systems, surface water treatments, and so on.
You will experience more than 20 break through innovations, of which many recently managed to win a diversity of high profile awards.
For example, Salttech, winner of Aquatech innovation award 2015 with its DyVaR technology. In the last 2 years the company  has developed their technology even further. "We are the first technology worldwide that completely removes the water from inorganic components, such as salt in one step ", says CEO Gerard Schouten with confidence. "In a short timefrime, a zero Liquid Discharge-technology that combines flexibility and low maintenance.
Or how about the winner of the Water Alliance Innovation & Stimulation Award 2017; Wafilin Systems, with ' Concentrating Milk ' A breakthrough innovation for the Dairy industry, originating from the Water Campus and grown into a fully operating company.
Further on the Avenue
A little further on in the Avenue we find another company of international interest; BW Products by Hans Wouters. Together with British partner Chris Heslegrave of Aquabio  (winner of the Water Industry Achievement Award 2017!) An award was won for ' most innovative technology of the year'. This innovation introduces RFID technology for the monitoring of purification processes.
These are just examples of the expiring and dynamic surrounding of the   innovation Avenue with people driven by interest  and passion to develop state-of-the art innovations. Meet us in hall 7 starting at the Netherlands Pavilion and keep an eye on our website for more information about the Innovation Avenue at  Aquatech Amsterdam.